Don't have an account yet? Sign up as a New User
There are no upcoming events
Thursday 13-Jul
Tuesday 30-May
Sunday 02-Apr
Thursday 23-Feb
Monday 06-Feb
Wednesday 01-Feb
Monday 30-Jan



Author:
Jamy
Dated:
Tuesday, January 20 2004 @ 10:41 AM EST
Viewed:
1319 times

Saturday was our wildest time so far. In the early afternoon, we took a ferry to Katembe (sp?), a small peninsula just a mile or two across the bay. After traversing "the ship graveyard" we planted ourselves on the beach at the only restaurant – a comfortable place (called Jandango?) with a deck that faces the water and a live band in the back.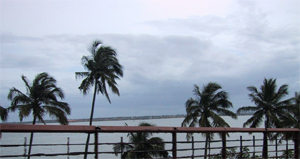 Author:
Dan
Dated:
Saturday, January 17 2004 @ 05:03 AM EST
Viewed:
1040 times

Thursday night the rains came. Jamy and I were downstairs in Chris' family room… umm… watching The Grifters. Hehehe. When we heard the winds pickup.
I made my way upstairs to the terrace and saw the lightning storm repeatedly strike the water off the coast. It was really cool. I thought of going to get the video camera to film it… but then I remembered that episode of AMF where the idiot doing the same thing was actually struck… and decided to just appreciate it with my organic (slightly less electric-conductive) eyes and just write about it later...
Author:
Dan
Dated:
Friday, January 16 2004 @ 09:42 AM EST
Viewed:
1023 times

In America, the land of opportunity and choice, we are taught from a very early age NOT to jump at the very first thing that comes along. We are shown that there is almost always an infinite number of things to chose from and to make an uninformed decision will certainly end in malcontent, either sooner or later in life.
I don't think the same holds true for life in Mozambique or Africa or maybe even in most places.
Author:
Dan
Dated:
Tuesday, January 13 2004 @ 01:57 PM EST
Viewed:
971 times

Friday… seems like such a long time ago…

Let me try to piece it together… we slept. Allot. Then we got up. Then I think we slept again. First thoughts were, "Jennifer is not human!" She does not eat or sleep. And I haven't even seen her plug-in for a recharge… maybe she's in cahoots with that cyborg guy… I'll fill you in as I get more info…

Anyway… let's begin with Friday night. Liz (who is rooming with Fran) is dating this really cool guy who plays guitar in a band. I don't really know them yet... But Liz is another Fulbrighter here and her boybriend is Mozambican, but whose name I can't recall at the moment. (Just like most of Friday). Anywho, they invited us to go out with them…
Author:
Dan
Dated:
Sunday, January 11 2004 @ 09:37 AM EST
Viewed:
569 times

Mann, a 41-year-old engineering professor at the University of Toronto, spends hours every day viewing the world through that little monitor in front of his eye — so much so that going without the apparatus often leaves him feeling nauseous, unsteady, naked.

Ok, this isn't really Apple related... but I don't have a generic Tech Topic created yet...

Anyway you NEED to check this out! If you thought blogs were a new way of communicating... this guy puts it to shame.

Professor Lives Life As a Cyborg.
Author:
Dan
Dated:
Saturday, January 10 2004 @ 10:29 PM EST
Viewed:
1027 times

The second day (Thursday), we woke up on the late side and all walked down the street to get some lunch at Mundo's Pizzeria. And this is gonna shock you, but "It was damn hot outside!"
Author:
Dan
Dated:
Saturday, January 10 2004 @ 04:17 AM EST
Viewed:
1159 times

Ok, so the first night (Wednesday the 7th) we did NOT go out and hear any jazz music at "Bar Africa." We were going to go, but we were afraid that once we traveled there by taxi and got all settled in for a night of fun our jet-lag would kick in and we'd have to go though the trouble of getting ourselves back home (through "the language barrier"). So we stayed in and hung out with Fran (another Fulbrighter & her boyfriend Burt who is visiting her here in Moze).
Author:
Dan
Dated:
Friday, January 09 2004 @ 05:36 AM EST
Viewed:
939 times

Not exactly sure if Chris would mind me posting a movie of the interior of his house... So, I guess when I meet him on Sunday I'll ask.

But until then, take a "virtual tour of where Jamy & I are staying!"

(The entire thing is 4.3MB and runs about a minute and a half).
Author:
Dan
Dated:
Wednesday, January 07 2004 @ 04:59 PM EST
Viewed:
819 times

The trip was a breeze! Not counting the 20+ hours cramped on the plane of course...

From West Palm to Atalanta to "Jo-Burg" to Maputo with no hitches, no glitches and no delays. (Airport security here is fun! I put my carry-on thru the "machine?" and was stopped: is this your's? Yes. What's in it? A computer. Ok!") Once we got to the Maputo airport, which is more like a small train station in Italy, we were met at customs (which only took us about 10 minutes) by someone from the state dept. AND got (all!) our luggage in record time!
Author:
Dan
Dated:
Saturday, January 03 2004 @ 11:11 AM EST
Viewed:
828 times


Do you listen to podcasts?
STORIES
No new stories

COMMENTS last 48 hrs
No new comments

LINKS last 2 wks
No recent new links