Don't have an account yet? Sign up as a New User
There are no upcoming events
Thursday 13-Jul
Tuesday 30-May
Sunday 02-Apr
Thursday 23-Feb
Monday 06-Feb
Wednesday 01-Feb
Monday 30-Jan



Author:
Dan
Dated:
Thursday, July 13 2006 @ 01:06 PM EDT
Viewed:
5709 times

So Jamy told you all about our adventures in the North (believe it Paul you Doubting Thomas you)... but the pleasure is all mine: Please allow me show you the photos from the experience...
Author:
Jamy
Dated:
Tuesday, May 30 2006 @ 08:55 AM EDT
Viewed:
2025 times

Well, it has been entirely too long, and because of that we have stories to tell…boy, do we have stories…. Our trip up north was by turns exciting, scary and bizarre. I was hired by Aga Khan Foundation (AKF) to visit several villages in northern Mozambique and interview the beneficiaries of their projects. I wrote the case studies and Dan took photos. That was the exciting part. The first 24 hours of the trip would be the scary, bizarre part.
Author:
Dan
Dated:
Sunday, April 02 2006 @ 03:53 AM EDT
Viewed:
1549 times

Very exciting news: Jamy and I are off for some incredible adventures up in the Northern reaches of Mozambique. We are soo excited. And even though we've read a ton about it, and spoke to several people who have been there, it's still hard for us to even imagine what we will find. (Other than extremely hot weather conditions). As we have said before, Maputo, the capital of Mozambique where we live, is like a little island unto itself. Maputo is in the Southern most province and only 1-hour's drive from the South African border. In many respects, leaving Maputo is like leaving for another African country.
Author:
Dan
Dated:
Sunday, March 12 2006 @ 05:39 AM EST
Viewed:
1761 times

Now that the iTunes Music Store is offering the ability to download TV Shows and the sharing of pirated movies has become all the rage... we can relax a little as we push a few Moçambican canções through the airwaves.
Author:
Dan
Dated:
Sunday, February 26 2006 @ 06:10 AM EST
Viewed:
1743 times

James & Maja called me last night. (Some fun new friends we've been hanging with lately). They had some interesting news to share; one of my most favorite Mozambican bands, Ghorwane, was going to be playing a small intimate venue here in town... but from the back of a train? I had to see (and hear) isso espetáculo!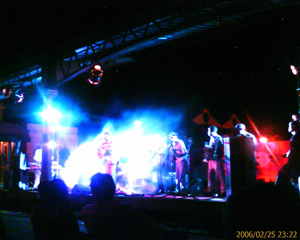 Author:
Dan
Dated:
Thursday, February 23 2006 @ 12:03 PM EST
Viewed:
1630 times

MAPUTO, Mozambique - "A powerful earthquake sent thousands of panicking people fleeing from swaying buildings in Mozambique and Zimbabwe soon after midnight Thursday, and killed at least two people."
Author:
Jamy
Dated:
Thursday, February 23 2006 @ 06:59 AM EST
Viewed:
1696 times

Yes, we felt it. Last night around midnight I was watching Brokeback Mountain and Dan had just come through the door and told me he'd lost all of our money in a poker game, when the floor started to shake. At first we were really confused as to what was happening. The chair I was sitting in kept rocking back and forth. Honestly, I thought I was feeling that bottle of red I'd topped off earlier. But then EVERYTHING started to shake – the bookshelves, the flower pots, the lamps, (if we had any pictures on our walls I'm sure they would have been shakin' too). We stood up and that's when the entire building began to sway back and forth. It felt kind of like being on a boat.
Author:
Jamy
Dated:
Monday, February 06 2006 @ 12:39 AM EST
Viewed:
1917 times

from Granta
'How to write about Africa'
by Binyavanga Wainaina
some tips: sunsets and starvation are good
Always use the word 'Africa' or 'Darkness' or 'Safari' in your title. Subtitles may include the words 'Zanzibar', 'Masai' 'Zulu', 'Zambezi', 'Congo', 'Nile', 'Big', 'Sky', 'Shadow' 'Drum', 'Sun' or 'Bygone'. Also useful are words such a 'Guerrillas', 'Timeless', 'Primordial' and 'Tribal'. Note that 'People' means Africans who are not black, while 'The People' means black Africans
Author:
Dan
Dated:
Wednesday, February 01 2006 @ 01:14 PM EST
Viewed:
2471 times

You've seen her counting cards at the Washington Post. (Shark!) You've seen her hike her way across the pages of the Washingtonian. (Slowly but surely). Well now she's really smoking, as she lands herself smack dab in the middle of The Sun. Magazine that is.
Author:
Jamy
Dated:
Monday, January 30 2006 @ 11:49 PM EST
Viewed:
2479 times

Over the Christmas holidays Dan and I had a visit from Morpheus. He held a copy of Confessions of an Economic Hit Man by John Perkins and he said, "you can either choose the blue pill by not reading this book, and continue life as you know it in your little corner of the good life...or choose the red pill and read the book that will open your eyes to the way the world really is...."


Do you listen to podcasts?
STORIES
No new stories

COMMENTS last 48 hrs
No new comments

LINKS last 2 wks
No recent new links