Don't have an account yet? Sign up as a New User
There are no upcoming events
Thursday 13-Jul
Tuesday 30-May
Sunday 02-Apr
Thursday 23-Feb
Monday 06-Feb
Wednesday 01-Feb
Monday 30-Jan



Author:
Dan
Dated:
Wednesday, January 18 2006 @ 12:23 PM EST
Viewed:
1091 times

Stale pale blog
Why on earth do you taunt me
Frail whailing hog
You sit so silent
Yet your memories do naught
But haunt me

Author:
Jamy
Dated:
Thursday, November 24 2005 @ 05:27 AM EST
Viewed:
1862 times

Whelp, it has been a while since either Dan or I wrote a blog post. I'm very sorry to say that Dan has abandoned the blog for this thing he calls…. V-i-d-e-o G-a-m-e-s. Actually, drop the "s" because there is only one video game in Dan's world, I believe it's called World Of Warcraft and it has possessed his mind. Here's is a typical day at the Bondillaro's.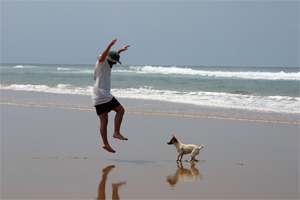 Author:
Dan
Dated:
Wednesday, November 23 2005 @ 11:56 AM EST
Viewed:
1067 times

"The prospects for checking the pandemic growth of malaria looked brighter yesterday after scientists reported that young children in Mozambique were still enjoying protection from the vaccine they are testing after 18 months."
Author:
Dan
Dated:
Saturday, October 15 2005 @ 12:28 PM EDT
Viewed:
1205 times

This is a little slideshow of some of the crazy people we know and have become, while living here in Mozambique.



Author:
Dan
Dated:
Wednesday, October 12 2005 @ 01:25 PM EDT
Viewed:
1623 times

To some it means fame. To others it means ham. Hmmmm.... ham. Lots and lots of hams.
Author:
Dan
Dated:
Friday, August 19 2005 @ 08:29 AM EDT
Viewed:
1299 times
Author:
Dan
Dated:
Tuesday, July 12 2005 @ 12:17 PM EDT
Viewed:
2197 times

But we have a window in our bathroom! A good sized strategically placed window. It's in the shower. How about that?! I've never had a window in my bathroom, well not in my shower at least. I've used bathrooms that had shower-windows once or twice. But I've never personally 'owned a shower-window' before. It's nice. Kind of makes you feel like your showering outside. Ever shower outside? Not too fun when it's windy. But when it's sunny, you can open the window while showering. And when it's windy, you just crank up the hot-water. Steamy!
Author:
Dan
Dated:
Tuesday, June 21 2005 @ 02:28 PM EDT
Viewed:
1271 times

Things are cheio dos mudanças (full of changes). We just said a long and heartfelt goodbye to Zahra & Sulu. (We went out to "going away dinners" almost every night. Which was fun. But now my pants don't button). Prawns, prawns, prawns. They are hurrying back to the States to experience the wonders of parenthood for the first time. And they were almost late... Linhas Aereas de Moçambique (LAM) almost didn't let them board because Z was bursting at the seams. At first I thought the airline was complaining of the usual "your baggage is moito grande" thang. But then Zahra translated for us that they were in fact complaining that she was the one overweight. 32 kilos or 32 months along? It's easy to forget.
Author:
Dan
Dated:
Tuesday, June 14 2005 @ 12:19 PM EDT
Viewed:
1172 times
"Mozambican President Armando Guebuza arrived in Washington on Sunday to take part in a meeting between five African leaders and US President George Bush scheduled for Monday."
Author:
Dan
Dated:
Tuesday, June 07 2005 @ 01:10 PM EDT
Viewed:
1242 times

Who the hell has hijacked the blog this time? I mean, I'm used to tracking down the many mental-midgets that attempt to post poxy porno pictures to each and every comment that's collected on the system. The last one was named RON (he's still listed as a user). He was a real pip. He signed up for a user name and used some sort of bot to post 97 simultaneous ads for penile products and the like onto each and every real comment on the blog. That took some effort to sanitize. But this new foe is formidable. She posts wry, witty and intelligent quips about current events, literature and Afro-American politics. She is fearless and doesn't pull her punches. She goes by the hacker alias, Jamy, and has broken virtually every single cyber crime we have a law for... and now somehow she has found a way to hack into the M2A Blog Stats. How else could one of her stories receive over 900 views?!


Do you listen to podcasts?
STORIES
No new stories

COMMENTS last 48 hrs
No new comments

LINKS last 2 wks
No recent new links