Don't have an account yet? Sign up as a New User
There are no upcoming events
Thursday 13-Jul
Tuesday 30-May
Sunday 02-Apr
Thursday 23-Feb
Monday 06-Feb
Wednesday 01-Feb
Monday 30-Jan



Author:
Dan
Dated:
Monday, January 17 2005 @ 04:35 AM EST
Viewed:
1552 times

Mozambique is moving up in the world... and it has nothing to do with the tsunami or the shifting of tectonic plates or anything like that. (Moving To Africa, on the other hand, is not moving anywhere, more on M2A later tho). While Maputo still has about a million people living in mud-shacks and wooden tenement housing with corrugated tin roofs, at the same time, mais e mais million dollar mansions are being built along the beach every day: The depiction of the have's and have-not's has never been so clearly drawn for me in my whole life. It's not a pretty picture.
Author:
Dan
Dated:
Friday, December 31 2004 @ 11:11 AM EST
Viewed:
932 times

"Although Mozambique remains one of the poorest countries in the world, the Mozambican government on Wednesday decided to donate 100,000 US dollars to the victims of the earthquake and tsunamis that have devastated parts of south Asia.
Author:
stacy
Dated:
Saturday, December 25 2004 @ 06:31 PM EST
Viewed:
590 times

Hope you both are doing well! We miss you -- Stacy and Rich
Author:
Dan
Dated:
Thursday, December 23 2004 @ 06:03 AM EST
Viewed:
1185 times

"In the year 2014, The New York Times has gone offline." Not because it's the end of the world. But because it's the end of integrity. Paralleling the recent buy-outs of most media giants and their mechanistic consolidation down to just a handful of mega-news organizations, this sci-fi flash piece eerily reconstructs what may very well be happening, right under our virtual noses. These very words you read are part of the problem... this is a blog after all.
Author:
Jamy
Dated:
Friday, December 17 2004 @ 08:27 AM EST
Viewed:
1344 times

Hey folks, I'm back with a blog post! This is not because I'm itching to share my personal thoughts and experiences with the public, but because the last few weeks of my life have consisted of conversations such as this:
Dan: "When are you going to post to the blog?
When?
Author:
Dan
Dated:
Wednesday, December 15 2004 @ 01:11 AM EST
Viewed:
979 times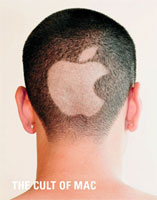 Well, I have been a mac user for over one year now. I've had some ups and downs along the way. I've had to reinstall Mac OSX a handful of times when things went awry. But I'm not about to get a mac tattoo or shave a logo in the back of my head... not just yet any way. (I am a little sorry I didn't buy their stock when I bought their beautiful laptop). Oh well, what you gonna do?
Author:
Dan
Dated:
Thursday, December 09 2004 @ 10:57 AM EST
Viewed:
985 times

"Officials said they would not meet a target to declare results by Thursday. They blamed the delays on heavy rain and computer problems."
Author:
Dan
Dated:
Monday, December 06 2004 @ 05:39 AM EST
Viewed:
863 times

Jamy & I have been in Mozambique, Africa for just about 11-months now. The Moving To Africa Blog however, has been around a little longer than that... The blog went online with its first post on October 13, 2003 (a little over 2-months before we left). Where is this going? The M2A Blog has recently had a birthday!
And no one remembered. Not even us. Poor little abandoned blog...

Author:
Dan
Dated:
Thursday, September 16 2004 @ 12:22 PM EDT
Viewed:
1255 times

So, in case you live in a cave (and I hope its comfy you techno-fearing luddite), here's a bit of news f or you. This just in: Blogs are becoming more and more popular. (And you thought they would just go away. D'oh!). Did any of you see the link I posted to the Blogs Of War site? (Did'ja click on it?). It has some really interesting material they have collected (everything, so they claim) about the war in Iraq and has tons and tons of comments from both the far right and far left wings of... just about everything you can imagine. (including links to marines in Iraq who are keeping blogs). Also, on a more local note, Jamy & I have begun to discover that there are a few other ex-pat bloggers here in Mozambique. For example, there is a Peace Corps Volunteer by the name of John Dutton, that is blogging his whole experience up in Chokwe, Mozambique. After reading his blog, Jamy & I contacted John and asked if we could come and visit him and his site, sit-in on some of the classes he teaches and ask a few questions of his students about their views on AIDS to help further Jamy's project. He responded with a resounding yes! (John is in a unique 'blogging situation', as he doesn't really have Internet access at his site and is having someone else maintain his blog for him... But his blog is great and his experiences really worth while reading). So, as we sat in our apartment making plans to go visit this digital stranger, John in Chokwe, that got me thinking: if John Dutton has this great blog that enabled us to find him and visit him... perhaps there are others out here in Mozambique that are also keeping blogs. (If you haven't clicked on any links yet: The community chest (aka blogster, aka dungeon master) says - You must return to the top of the page and re-read it. You do not pass go. You do not collect 200,000 metticais. BTW, what's up with the exchange rate? I'm losing my shirt on Ventnor Avinida.
Author:
Jamy
Dated:
Sunday, September 05 2004 @ 06:27 AM EDT
Viewed:
996 times

"Maputo - Mozambican wildlife authorities were on Wednesday trying to figure out how a buffalo ended up roaming the streets of the capital Maputo and attacked five people before being killed by police.
Three people were seriously injured and two more suffered slight injuries in a Maputo neighbourhood a few weeks ago when a buffalo roaming the Infulene suburb attacked them.
The errant buffalo was the latest wild animal on the loose in an area alien to wildlife in recent months."


Do you listen to podcasts?
STORIES
No new stories

COMMENTS last 48 hrs
No new comments

LINKS last 2 wks
No recent new links