Don't have an account yet? Sign up as a New User
There are no upcoming events
Thursday 13-Jul
Tuesday 30-May
Sunday 02-Apr
Thursday 23-Feb
Monday 06-Feb
Wednesday 01-Feb
Monday 30-Jan



Author:
Dan
Dated:
Friday, February 27 2004 @ 08:43 AM EST
Viewed:
4840 times

A Brazilian nun has been found dead in Mozambique after some of her colleagues said they had exposed an organ trafficking network.
Author:
Dan
Dated:
Wednesday, February 18 2004 @ 09:06 AM EST
Viewed:
1364 times

"The world that is coming is your world, you know how to tread in the mud without getting your feet dirty. They must wear the shoes of falsehood and the socks of betrayal. The truth is this: you should leave... You are a good fruit on a rotten tree. You are the groundnut in a sack full of rats. They'll gobble you up before you can cause them any discomfort. The problem is the pasture where your colleagues graze. You don't know how the pasture is made: it has to be cut, not in order to kill it, but so that it will grow all the stronger. We pity you because you're a foolish man. By this, I mean you are a good man. You were pulled out of the pool where the toads were, and you jumped into the one where the crocodiles live."
Excerpt from "Under the Frangipani" by Mia Couto.
Author:
Dan
Dated:
Saturday, February 14 2004 @ 12:15 PM EST
Viewed:
2713 times

Sorry it took so long... but at long last, Moving To Africa brings you the views from the 14th floor of the now infamous "Rosas de Mozambique" Building.
Author:
Dan
Dated:
Tuesday, February 10 2004 @ 10:31 AM EST
Viewed:
1616 times

As most of you can gather from reading Moving To Africa dot Com, (M2A) our experiences thus far in Mozambique are not quite the norm for most new arrivals. (I mean I don't want to offend anyone... we feel they're unique, because they're ours). But here's another installment just to prove that uniqueness.
Brief run-down of the things that set us apart:
Found a place to live within one week.
Had a visitor after being here just 3 weeks.
Haven't taken a shappa… and hope we don't have to.
Met the President of the Republic!
Oh yeah, all that and I we have a giant kickass website that allows us to brag to more people at one time.
Author:
Dan
Dated:
Friday, February 06 2004 @ 12:04 PM EST
Viewed:
1207 times

Our new apartment is one-part battleship, one-part living quarters and one-part whistling teakettle.
All aboard?
Author:
Matt Burkhardt
Dated:
Thursday, February 05 2004 @ 12:07 PM EST
Viewed:
776 times

Did you get moved into your new apartment okay? How about some pics of the views?
Author:
Dan
Dated:
Wednesday, January 28 2004 @ 10:45 AM EST
Viewed:
2270 times

I think I mentioned in one of my earlier posts that Jamy and I picked up some Portuguese literature in the Polana Shopping Center just down the street. (It's actually across the street from our new apartment, that we WILL BE OFFICIALLY MOVING INTO TOMORROW, yes I know we keep saying that, but we mean it this time!).
Author:
Dan
Dated:
Sunday, January 25 2004 @ 10:48 AM EST
Viewed:
823 times

Just because we are in Africa doesn't mean we can't employ the use of standard marketing tactics... that's buzz-word speak for, WE GOT A NEW LOGO!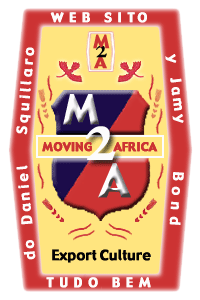 We also have a few new users to welcome to the community. And as always; Thanks4playing, thanks for your participation and thanks for you support!.
Author:
Dan
Dated:
Friday, January 23 2004 @ 09:55 AM EST
Viewed:
1237 times

We do more before 6am than all of our blog readers combined!
Sure it's only because of the 7-hour time difference… but we don't have to advertise that… we just do. Because we here at MovingToAFRICA.com (M2A) (yeah there's only 2 of us, you gotta a problem with that?) pride ourselves on being brutally honest, slightly humorous and disgracefully tactless. Luckily our egos got lost in Jo-Burg… I mean here in Mozambique, we speak like children and act like infants. "Can we have a bed now?"
The producers of such poorly read entries as Let the blogging Begin, Our Taste Buds Take a Trip and How to Buy a Cell Phone in Maputo are now poised to lunch a new blockbuster blog-entry, entitled… Moving Up In Maputo.
C'mon Weezy, we're moving on up… but the elevator ain't workin.
Author:
Dan
Dated:
Wednesday, January 21 2004 @ 04:36 AM EST
Viewed:
1819 times

Ok ok, so Maputo isn't all fun & fungus, ya know! We've been trying to spare you all the mundane problems of trying to get work (trabahlo) done here… but a few, just a few of you seem to have taken note (and perhaps offense) that all we write about is las festas e bebedao. And… well you're right. But we are here for a reason and though Jamy doesn't like to talk (or write) about it much, you just have to take our word that we are getting lots accomplished.

If it is mundane details about minor accomplishments you want… then details yee shall have... Read on MacDuff…


Do you listen to podcasts?
STORIES
No new stories

COMMENTS last 48 hrs
No new comments

LINKS last 2 wks
No recent new links