Don't have an account yet? Sign up as a New User
There are no upcoming events
Thursday 13-Jul
Tuesday 30-May
Sunday 02-Apr
Thursday 23-Feb
Monday 06-Feb
Wednesday 01-Feb
Monday 30-Jan



Author:
sand rat
Dated:
Wednesday, October 11 2006 @ 10:41 AM EDT
Viewed:
1116 times

Hey Dan...good to hear back from ya. I fully agree with you on the spam blocker. I'd much rather submit a post than filter through lurid sex tales to get the REAL comments/stories.
Author:
Dan
Dated:
Sunday, August 20 2006 @ 08:09 AM EDT
Viewed:
1041 times

Just another non-eventful weekend here in Moze. A Wonderful Day In A One-Way World. (I've had that song playing in the car for about 2-months straight now). Friday I went to yet another Despidida (Going Away) Party for a colleague. Seems like that's the only kind of events I'm invited to these days. Parties for other people who are fleeing...
Author:
Dan
Dated:
Sunday, August 13 2006 @ 12:35 PM EDT
Viewed:
4528 times

No, this post is not actually about robbing banks. (Though in Mozambique the word is that it's not as hard as it seams). Instead, it's about; not breaking the bank. Where am I going with this? Well, we've begun to notice that our once minimalist apartment... has been becoming less and less minimalist with each passing week here in Mozambique. Yes, we are slobs. We are pack-rats. And of course we are Americans. D'uh! So, while apparently you can take the Americans away from America, you can't take their obsessive-compulsive (unclean, unclean) need (or dumb-luck) to acquire material objects away from them... Don't you just love how we generalize?! (If you don't, just pretend you do. It's makes this whole blog thing a lot easier to swallow).
Author:
Dan
Dated:
Sunday, February 26 2006 @ 06:10 AM EST
Viewed:
1743 times

James & Maja called me last night. (Some fun new friends we've been hanging with lately). They had some interesting news to share; one of my most favorite Mozambican bands, Ghorwane, was going to be playing a small intimate venue here in town... but from the back of a train? I had to see (and hear) isso espetáculo!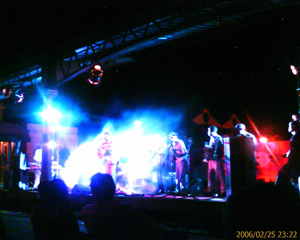 Author:
Dan
Dated:
Thursday, February 23 2006 @ 12:03 PM EST
Viewed:
1630 times

MAPUTO, Mozambique - "A powerful earthquake sent thousands of panicking people fleeing from swaying buildings in Mozambique and Zimbabwe soon after midnight Thursday, and killed at least two people."
Author:
Jamy
Dated:
Thursday, February 23 2006 @ 06:59 AM EST
Viewed:
1696 times

Yes, we felt it. Last night around midnight I was watching Brokeback Mountain and Dan had just come through the door and told me he'd lost all of our money in a poker game, when the floor started to shake. At first we were really confused as to what was happening. The chair I was sitting in kept rocking back and forth. Honestly, I thought I was feeling that bottle of red I'd topped off earlier. But then EVERYTHING started to shake – the bookshelves, the flower pots, the lamps, (if we had any pictures on our walls I'm sure they would have been shakin' too). We stood up and that's when the entire building began to sway back and forth. It felt kind of like being on a boat.
Author:
Dan
Dated:
Wednesday, October 12 2005 @ 01:25 PM EDT
Viewed:
1623 times

To some it means fame. To others it means ham. Hmmmm.... ham. Lots and lots of hams.
Author:
Dan
Dated:
Tuesday, July 12 2005 @ 12:17 PM EDT
Viewed:
2197 times

But we have a window in our bathroom! A good sized strategically placed window. It's in the shower. How about that?! I've never had a window in my bathroom, well not in my shower at least. I've used bathrooms that had shower-windows once or twice. But I've never personally 'owned a shower-window' before. It's nice. Kind of makes you feel like your showering outside. Ever shower outside? Not too fun when it's windy. But when it's sunny, you can open the window while showering. And when it's windy, you just crank up the hot-water. Steamy!
Author:
Dan
Dated:
Tuesday, June 21 2005 @ 02:28 PM EDT
Viewed:
1271 times

Things are cheio dos mudanças (full of changes). We just said a long and heartfelt goodbye to Zahra & Sulu. (We went out to "going away dinners" almost every night. Which was fun. But now my pants don't button). Prawns, prawns, prawns. They are hurrying back to the States to experience the wonders of parenthood for the first time. And they were almost late... Linhas Aereas de Moçambique (LAM) almost didn't let them board because Z was bursting at the seams. At first I thought the airline was complaining of the usual "your baggage is moito grande" thang. But then Zahra translated for us that they were in fact complaining that she was the one overweight. 32 kilos or 32 months along? It's easy to forget.
Author:
Jamy
Dated:
Friday, June 03 2005 @ 10:48 AM EDT
Viewed:
826 times

More about Mozambique in the news...from today's New York Times:
AIDS, Pregnancy and Poverty Trap Ever More African Girls
Orphaned and impoverished by the deaths of parents, girls here are being propelled into sex at shockingly early ages to support themselves, their siblings and, all too often, their own children.


Do you listen to podcasts?
STORIES
No new stories

COMMENTS last 48 hrs
No new comments

LINKS last 2 wks
No recent new links