Don't have an account yet? Sign up as a New User
There are no upcoming events
Thursday 13-Jul
Tuesday 30-May
Sunday 02-Apr
Thursday 23-Feb
Monday 06-Feb
Wednesday 01-Feb
Monday 30-Jan



Author:
Jamy
Dated:
Tuesday, May 30 2006 @ 08:55 AM EDT
Viewed:
2025 times

Well, it has been entirely too long, and because of that we have stories to tell…boy, do we have stories…. Our trip up north was by turns exciting, scary and bizarre. I was hired by Aga Khan Foundation (AKF) to visit several villages in northern Mozambique and interview the beneficiaries of their projects. I wrote the case studies and Dan took photos. That was the exciting part. The first 24 hours of the trip would be the scary, bizarre part.
Author:
Dan
Dated:
Sunday, April 02 2006 @ 03:53 AM EDT
Viewed:
1549 times

Very exciting news: Jamy and I are off for some incredible adventures up in the Northern reaches of Mozambique. We are soo excited. And even though we've read a ton about it, and spoke to several people who have been there, it's still hard for us to even imagine what we will find. (Other than extremely hot weather conditions). As we have said before, Maputo, the capital of Mozambique where we live, is like a little island unto itself. Maputo is in the Southern most province and only 1-hour's drive from the South African border. In many respects, leaving Maputo is like leaving for another African country.
Author:
Jamy
Dated:
Thursday, November 24 2005 @ 05:27 AM EST
Viewed:
1862 times

Whelp, it has been a while since either Dan or I wrote a blog post. I'm very sorry to say that Dan has abandoned the blog for this thing he calls…. V-i-d-e-o G-a-m-e-s. Actually, drop the "s" because there is only one video game in Dan's world, I believe it's called World Of Warcraft and it has possessed his mind. Here's is a typical day at the Bondillaro's.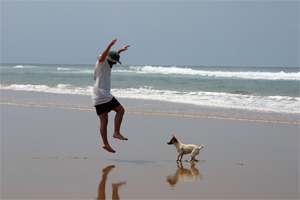 Author:
Jamy
Dated:
Sunday, April 17 2005 @ 06:12 AM EDT
Viewed:
904 times

"Who ever heard of a Grandfather who can't fix a computer?" This is one of my favorite little-kid-lines, care of Dan's niece, Angela, who gave her Papa a whole lotta grief for his less-than-standard printing skills…. And, she has a point.
Author:
Dan
Dated:
Friday, April 01 2005 @ 01:48 PM EST
Viewed:
12565 times

So we're going to an elephant reserve to do some overnight camping and we're going to have a little braai by the praia.
But what do you bring to meet the elephants? Pants, paints, shorts, scrabble, bathing suits? Can you bring an acoustic guitar? What if the elephants don't like the songs? Don't tell me you've never seen pissed off pachyderm? It ain't pretty. They huff, snuff, snarl and stomp their feet and flap their ears as if to fly away. Imagine something as cute and spunky as Gidget, as unpredictable as a Flying Nun, crossed with an ornery Snuffleupagus. All the while, keeping in mind, that at any time they could just walk on top of you. (There's a puzzle there somewhere). ((I think)).
Author:
Jamy
Dated:
Friday, December 17 2004 @ 08:27 AM EST
Viewed:
1344 times

Hey folks, I'm back with a blog post! This is not because I'm itching to share my personal thoughts and experiences with the public, but because the last few weeks of my life have consisted of conversations such as this:
Dan: "When are you going to post to the blog?
When?
Author:
Dan
Dated:
Thursday, September 16 2004 @ 12:22 PM EDT
Viewed:
1255 times

So, in case you live in a cave (and I hope its comfy you techno-fearing luddite), here's a bit of news f or you. This just in: Blogs are becoming more and more popular. (And you thought they would just go away. D'oh!). Did any of you see the link I posted to the Blogs Of War site? (Did'ja click on it?). It has some really interesting material they have collected (everything, so they claim) about the war in Iraq and has tons and tons of comments from both the far right and far left wings of... just about everything you can imagine. (including links to marines in Iraq who are keeping blogs). Also, on a more local note, Jamy & I have begun to discover that there are a few other ex-pat bloggers here in Mozambique. For example, there is a Peace Corps Volunteer by the name of John Dutton, that is blogging his whole experience up in Chokwe, Mozambique. After reading his blog, Jamy & I contacted John and asked if we could come and visit him and his site, sit-in on some of the classes he teaches and ask a few questions of his students about their views on AIDS to help further Jamy's project. He responded with a resounding yes! (John is in a unique 'blogging situation', as he doesn't really have Internet access at his site and is having someone else maintain his blog for him... But his blog is great and his experiences really worth while reading). So, as we sat in our apartment making plans to go visit this digital stranger, John in Chokwe, that got me thinking: if John Dutton has this great blog that enabled us to find him and visit him... perhaps there are others out here in Mozambique that are also keeping blogs. (If you haven't clicked on any links yet: The community chest (aka blogster, aka dungeon master) says - You must return to the top of the page and re-read it. You do not pass go. You do not collect 200,000 metticais. BTW, what's up with the exchange rate? I'm losing my shirt on Ventnor Avinida.
Author:
Dan
Dated:
Monday, August 16 2004 @ 06:45 PM EDT
Viewed:
967 times
Author:
Dan
Dated:
Tuesday, August 10 2004 @ 07:29 AM EDT
Viewed:
1199 times

"Malolotja Nature Reserve is a highveld conservation area, cared for by the Swaziland National Trust Commission for the nation. Covering 18,000 hectares of montane grassland, protea savannah, forested ravines and upland yleis, it provide a sanctuary for a wide diversity of plants and animals, many of which are endangered and endemic to the region.


Do you listen to podcasts?
STORIES
No new stories

COMMENTS last 48 hrs
No new comments

LINKS last 2 wks
No recent new links